Ferrum Technology Services Blog
Ferrum Technology Services has been serving the Elgin area since 2007, providing IT Support such as technical helpdesk support, computer support, and consulting to small and medium-sized businesses.
Consider These 3 Communications Options for Your Business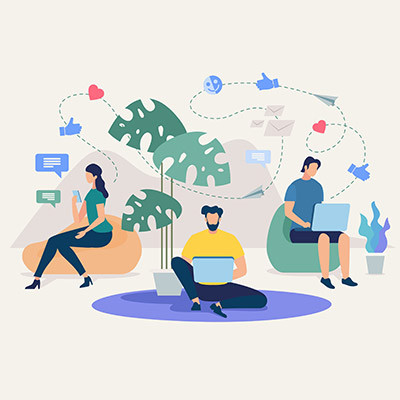 A business' communications can do a lot. It can turn big problems into small problems and it can produce a work environment that moves things along pretty well. Unfortunately for many businesses, they just haven't learned what technologies really work and spend a lot of time and effort trying to manage and utilize antiquated communication systems. Today, we will look at three technologies that speed up business and keep employees engaged.
Shifts in Communication
One of the biggest challenges businesses face when determining which communication technologies to lean on is a misrepresentation of what the technologies do. For example, most businesses utilize some sort of business telephone and email platforms. These are important resources in the day-to-day execution of business, to be sure, but today, there are ways to expand on these pillars of business communication to get more out of your staff. They include:
Video Conferencing
Video conferencing is an extension of traditional business communications. Employees can use a corporate video conferencing solution or options in a stand-alone app (although this could cause issues). Either way, the evolution of the video conferencing software has allowed businesses to start being more flexible about their employees' work strategies. This not only improves employee morale, it speeds up actionable communication.
For a business to consider a video conferencing solution, it should have the following features:
Interoperability
HD video
Screen sharing
Multiple camera capabilities
Support for mobile
Speaker tracking
Chat
Noise-canceling
Cloud-based recording
Presentation controls
Engagement reporting
With the COVID-19 pandemic moving a lot of workers offsite, video conferencing software has been in demand, and as a result, has been evolving into a must-have technology for every business.
Instant Messaging
Instant messaging has been proven to be one of the most effective technologies for the modern worker. It's not a big surprise that instant messaging has become a useful business tool since most people use it in their personal lives already. Instant messaging is the fastest and least intrusive means of communication that can also be used for group communication.
One of the biggest benefits of IM is that it is typically baked right into the other forms of communication that your business uses. Many hosted email and project management platforms have an integrated instant messaging feature. This can be a great way to open the effective lines of communication your business needs without having to research, purchase, and support a stand-alone application.
The biggest benefit instant messaging brings is that it breaks down the barriers of communication that can sometimes hinder businesses. It's not uncommon for management and production staff or employees who are time zones away to chat via IM. This promotes employee engagement, saves money on hardware costs, and keeps communication lines open when all other forms seem to slow things down.
Collaboration Apps
Finally, the newest, and some would say most useful, communication tool a business can use today is the collaboration app. This is largely because not only does it have an intuitive way to expand on ideas, it also integrates many of the other forms of communication into use. A collaboration app is effectively a central meeting place for your team that helps foster productivity and provides a direct means to get the resources needed on projects quickly.
As far as communication goes, the collaboration app provides integrations for messaging, conferencing, as well as a forum-like platform that allows people to work together in real time. On top of the communications benefits, collaboration apps can improve task management, whole project management, and keep workflow flowing on as intended. All these benefits can improve a project's turnaround time and improve productivity substantially.
You may utilize email and the telephone more than any other communications platform but it is the innovative applications that are pushing business communications to the next level. If you are looking for a way to improve your organization's productivity through communication, give Ferrum Technology Services a call today at 847-697-3282.
Comments
No comments made yet. Be the first to submit a comment